36" DEHY pkg
USED-B

Item No.

EA0000171

Print
Share
Details
Quantity:

1
Status:

USED-B
Unit Type:

Dehydrator
Location:

Fox Creek
Listing Date:

01/02/2019
---
Description
DEHDRATOR PACKAGE. 36" DEHYDRATOR TOWER, 2-GLYCOL PUMPS, FLASH TANK, REBOILER, GAS & FIRE DETECTION *EFFECTIVE AGE 2011' (ALCO MFG.)
| | | | | | | | | | | | | | |
| --- | --- | --- | --- | --- | --- | --- | --- | --- | --- | --- | --- | --- | --- |
| DESCRIPTION | MAWT | MDMT | PORTS | Year Built | Model number | Manufacturer | Service type | Additional information | Serial number | Provincial Reg. Number | CRN number | Field tag number | Condition Grading |
| D300 Glycol Heat Exchanger | 250⁰F | -20⁰F | | 2011 | | Alco Gas & Oil Production Equipment Ltd. | SWEET | | 2011-8246-02 | 612161 | V5886.2 | | Condition B |
| D300 Glycol Contactor | 150⁰F | -20⁰F | | 2011 | | Alco Gas & Oil Production Equipment Ltd. | SWEET | Coil and vessel. | 2011-8256-01 | 612243 | R7403.213 | T-710 | Condition B |
| D300 Lube Oil Scrubber | 100.4⁰F | -20.2⁰F | | 2014 | | Moss Fabrication Ltd. | SWEET | | 4850-1 | 646531 | W6654.2 | | Condition B |
| PRESSURE SAFETY VALVE | | | 2H3 | | JOS E 45 J | Crosby | SWEET | | 011-32659 | | | | Condition B |
| D300 Glycol Flash Tank | 230⁰F | -20⁰F | | 2011 | | Alco Gas & Oil Production Equipment Ltd. | SWEET | | 2011-8246-05 | 612162 | V5745.2 | V-120 | Condition B |
| PRESSURE SAFETY VALVE | | | 1.5H3 | | JOS E 35 J | Crosby | SWEET | | CW 41587 | | | | Condition B |
| D300 Glycol Particulate Filter | 250⁰F | -20⁰F | | 2011 | | Alco Gas & Oil Production Equipment Ltd. | SWEET | | 2011-8246-06 | 612163 | R6912.213 | FL-910 | Condition B |
| D300 Charcoal Filter | 200⁰F | -20⁰F | | 2011 | | Alco Gas & Oil Production Equipment Ltd. | SWEET | | 2011-8246-07 | 612167 | U5243.213 | FL-920 | Condition B |
| PRESSURE SAFETY VALVE | | | 1D1 | | 9117D51V611 | Mercer | SWEET | | 718611 | | | | Condition B |
| D300 Fuel Gas Scrubber | 150⁰F | -20⁰F | | 2011 | | Alco Gas & Oil Production Equipment Ltd. | SWEET | | 20118195-02I | SN-20118195-021 | T-9011.213 | | Condition B |
| PRESSURE SAFETY VALVE | | | 1" | | 91-17D51V07E1 | Mercer | SWEET | | C008813 | | | | Condition B |
| D300 Glycol Reboiler | | | | 2011 | | Alco Gas & Oil Production Equipment Ltd. | SWEET | | 2011-8256-02 | SN-2011-8256-02 | No CRN Stamped | | Condition B |
| D300 Glycol Pump | | | | | 21015 | Kimray | SWEET | | | | | P-531 | Condition B |
| D300 Glycol Pump | | | | | 21015 | Kimray | SWEET | | | | | P-532 | Condition B |
| D300 Gas/Glycol Exchanger | | | | | | | SWEET | | | | | V-532 | Condition B |
| D300 Glycol Surge Tank | | | | | | | SWEET | | | | | T-531 | Condition B |
| | | | | | | | | | | | | | | | | |
| --- | --- | --- | --- | --- | --- | --- | --- | --- | --- | --- | --- | --- | --- | --- | --- | --- |
| MAWP (kpa) | MAWP (psi) | Capacity | Capacity UOM | Coated | Man Way | Setpoint Pressure | Setpoint Pressure UOM | Position (Orientation) | Equipment Diameter | Equipment Diameter Unit | Equipment Diameter Type | Equipment Length | Equipment Length Unit | Equipment Volume | Equipment Volume Unit | National Board Number |
| 9790.556 | 1420 | | | NO | NO | | | Vertical | | | | | | | | |
| 9790.56 | 1420 | | | NO | NO | | | Vertical | | | | | | 4.927 | m3 | |
| 9928 | 1439.93 | | | NO | NO | | | Horizontal | 11.375 | IN | ID | 119 | IN | 0.283 | m3 | |
| | | 22140 | SCFM | | | 1420 | PSI | | | | | | | | | |
| 1723.689 | 250 | | | NO | NO | | | Vertical | | | | | | 0.207 | m3 | |
| | | 4068 | SCFM | | | 250 | PSI | | | | | | | | | |
| 1034.214 | 150 | | | NO | NO | | | Vertical | | | | | | 0.023 | m3 | |
| 1034.214 | 150 | | | NO | NO | | | Vertical | | | | | | 0.037 | m3 | |
| | | 17 | GPM | | | 25 | PSI | | | | | | | | | |
| 1034.21 | 150 | | | NO | NO | | | Vertical | | | | | | | | 30582 |
| | | 329 | SCFM | | | 150 | PSI | | | | | | | | | |
| | | | | NO | NO | | | Horizontal | | | | | | | | |
| | 1500 | 210 | GPH | | | | | | | | | | | | | |
| | 1500 | 210 | GPH | | | | | | | | | | | | | |
| | | | | | | | | | | | | | | | | |
| | | | | | | | | | | | | | | | | |
DEHYDRATOR BUILDING 12' X 34' X 10'
2-SINGLE DOORS
2-WINDOWS
We have all drawings etc.
Skidded and easily accessible for loading/transport
If you wish to view this item please contact Marlon @ 403.815.2016
For all purchase inquiries, please contact us via email at cody@energyauctions.ca or telephone at (403) 771-3984
5% GST (Goods & Service Tax) where applicable on all sales will be applied.
International tax exemption rules will apply.
Buyer will receive an invoice immediately following confirmation, wiring instructions for payment will accompany.
All items are sold "as is, where is" unless otherwise stated in the "details description".
Send a quote/offer to receive the listing owners contact details now.
Similar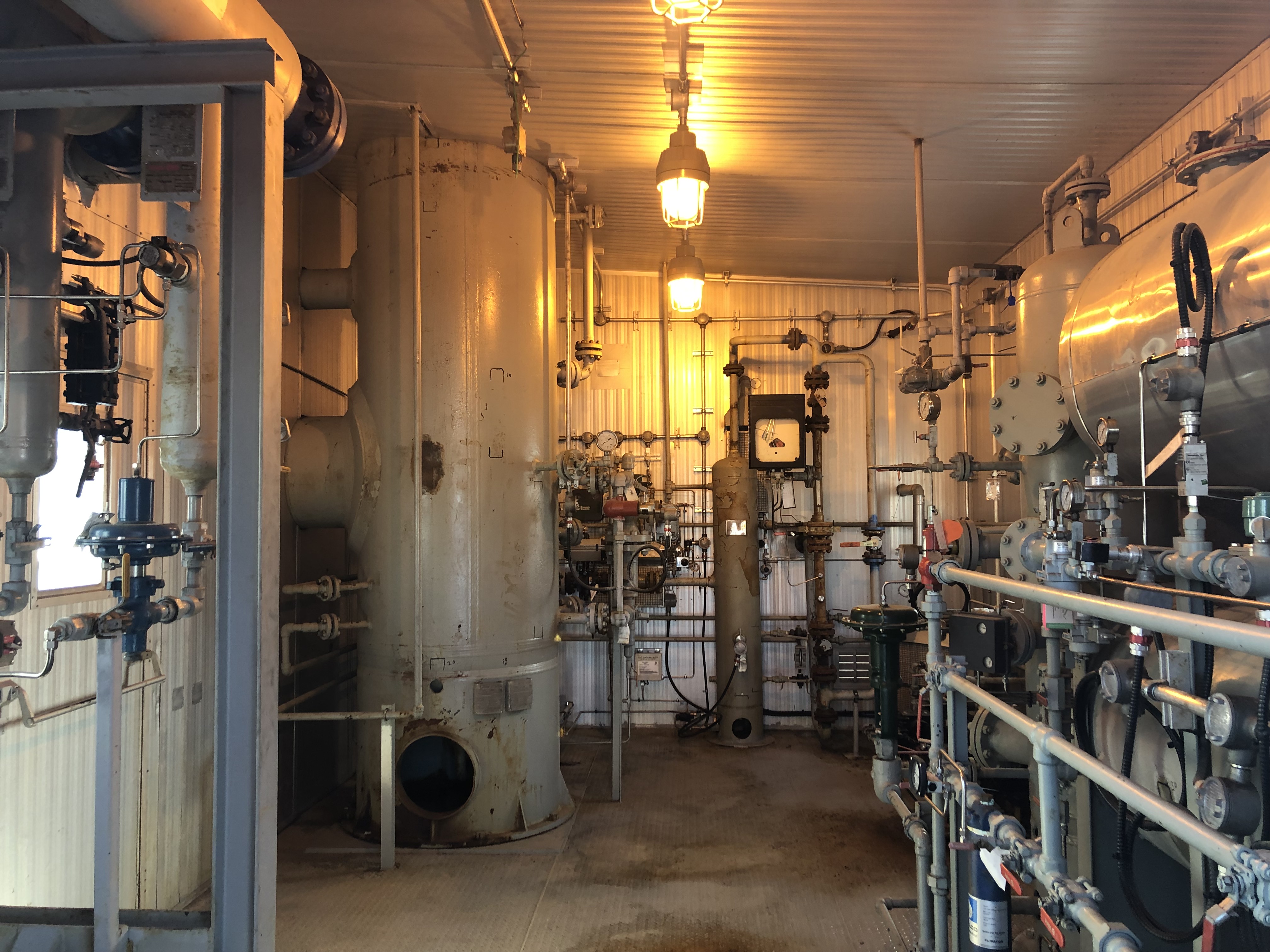 36"x14' DEHYDRATOR + 4 EXTRA TRAYS, GLYCOL FLASH TANK, 2 - GLYCOL PUMPS, GLYCOL RECONCENTRATOR (EFF. AGE 1988)DESCRIPTIONMAWTMDMTP...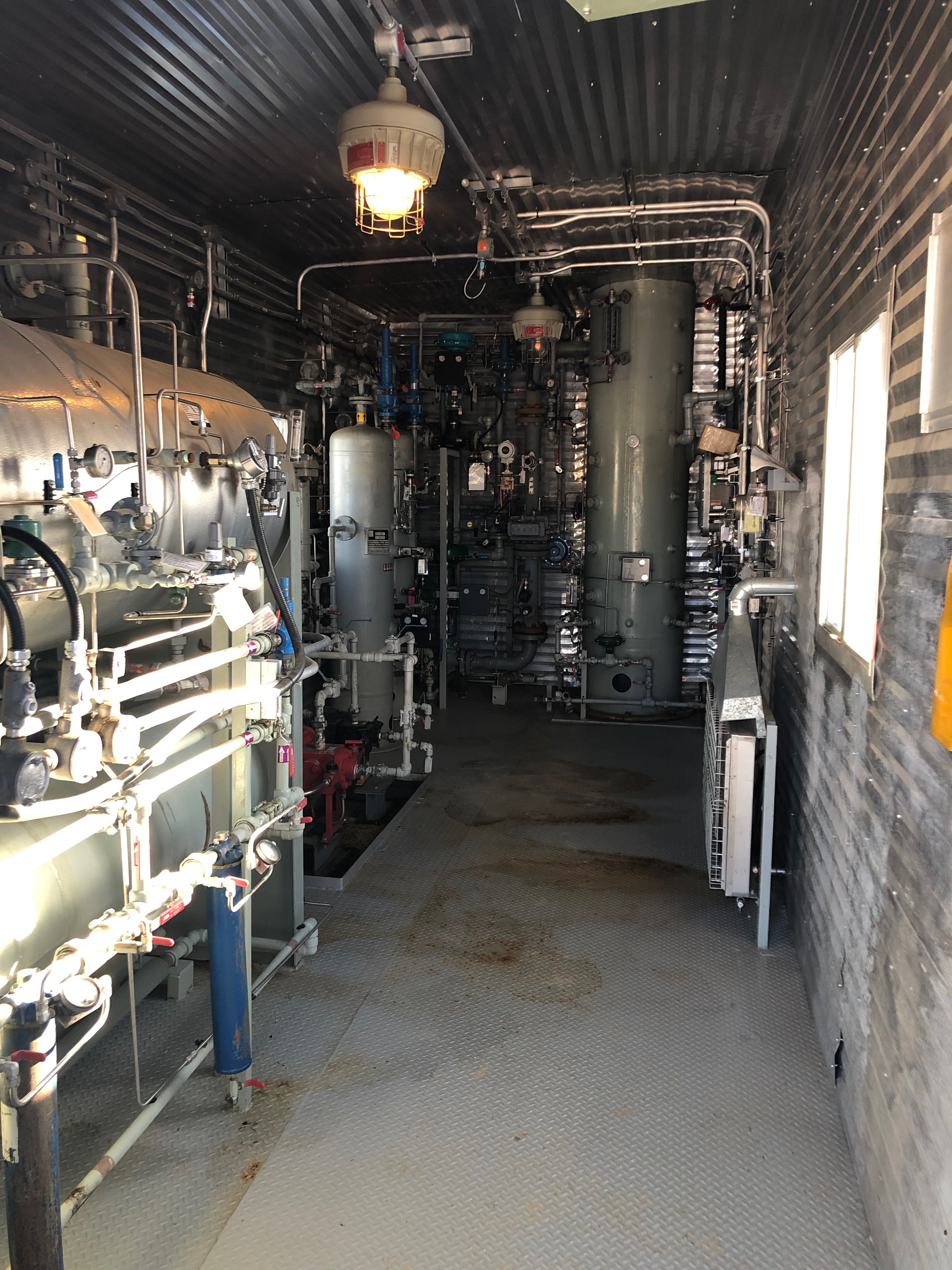 30" X 14' DEHYDRATOR + 4 EXTRA TRAYS, 2" ESDV , 3" 667, SS2200 MOISTURE ANALYZER, 2 PHASE 16" X 5' SEP @ 285PSI, GLYCOL PUMP, LEL ...
DEHDRATOR PACKAGE. 36" DEHYDRATOR TOWER, 2-GLYCOL PUMPS, FLASH TANK, REBOILER, GAS & FIRE DETECTION *EFFECTIVE AGE 2011' (ALCO MFG.)
| | | | | | | | | | | | | | |
| --- | --- | --- | --- | --- | --- | --- | --- | --- | --- | --- | --- | --- | --- |
| DESCRIPTION | MAWT | MDMT | PORTS | Year Built | Model number | Manufacturer | Service type | Additional information | Serial number | Provincial Reg. Number | CRN number | Field tag number | Condition Grading |
| D300 Glycol Heat Exchanger | 250⁰F | -20⁰F | | 2011 | | Alco Gas & Oil Production Equipment Ltd. | SWEET | | 2011-8246-02 | 612161 | V5886.2 | | Condition B |
| D300 Glycol Contactor | 150⁰F | -20⁰F | | 2011 | | Alco Gas & Oil Production Equipment Ltd. | SWEET | Coil and vessel. | 2011-8256-01 | 612243 | R7403.213 | T-710 | Condition B |
| D300 Lube Oil Scrubber | 100.4⁰F | -20.2⁰F | | 2014 | | Moss Fabrication Ltd. | SWEET | | 4850-1 | 646531 | W6654.2 | | Condition B |
| PRESSURE SAFETY VALVE | | | 2H3 | | JOS E 45 J | Crosby | SWEET | | 011-32659 | | | | Condition B |
| D300 Glycol Flash Tank | 230⁰F | -20⁰F | | 2011 | | Alco Gas & Oil Production Equipment Ltd. | SWEET | | 2011-8246-05 | 612162 | V5745.2 | V-120 | Condition B |
| PRESSURE SAFETY VALVE | | | 1.5H3 | | JOS E 35 J | Crosby | SWEET | | CW 41587 | | | | Condition B |
| D300 Glycol Particulate Filter | 250⁰F | -20⁰F | | 2011 | | Alco Gas & Oil Production Equipment Ltd. | SWEET | | 2011-8246-06 | 612163 | R6912.213 | FL-910 | Condition B |
| D300 Charcoal Filter | 200⁰F | -20⁰F | | 2011 | | Alco Gas & Oil Production Equipment Ltd. | SWEET | | 2011-8246-07 | 612167 | U5243.213 | FL-920 | Condition B |
| PRESSURE SAFETY VALVE | | | 1D1 | | 9117D51V611 | Mercer | SWEET | | 718611 | | | | Condition B |
| D300 Fuel Gas Scrubber | 150⁰F | -20⁰F | | 2011 | | Alco Gas & Oil Production Equipment Ltd. | SWEET | | 20118195-02I | SN-20118195-021 | T-9011.213 | | Condition B |
| PRESSURE SAFETY VALVE | | | 1" | | 91-17D51V07E1 | Mercer | SWEET | | C008813 | | | | Condition B |
| D300 Glycol Reboiler | | | | 2011 | | Alco Gas & Oil Production Equipment Ltd. | SWEET | | 2011-8256-02 | SN-2011-8256-02 | No CRN Stamped | | Condition B |
| D300 Glycol Pump | | | | | 21015 | Kimray | SWEET | | | | | P-531 | Condition B |
| D300 Glycol Pump | | | | | 21015 | Kimray | SWEET | | | | | P-532 | Condition B |
| D300 Gas/Glycol Exchanger | | | | | | | SWEET | | | | | V-532 | Condition B |
| D300 Glycol Surge Tank | | | | | | | SWEET | | | | | T-531 | Condition B |
| | | | | | | | | | | | | | | | | |
| --- | --- | --- | --- | --- | --- | --- | --- | --- | --- | --- | --- | --- | --- | --- | --- | --- |
| MAWP (kpa) | MAWP (psi) | Capacity | Capacity UOM | Coated | Man Way | Setpoint Pressure | Setpoint Pressure UOM | Position (Orientation) | Equipment Diameter | Equipment Diameter Unit | Equipment Diameter Type | Equipment Length | Equipment Length Unit | Equipment Volume | Equipment Volume Unit | National Board Number |
| 9790.556 | 1420 | | | NO | NO | | | Vertical | | | | | | | | |
| 9790.56 | 1420 | | | NO | NO | | | Vertical | | | | | | 4.927 | m3 | |
| 9928 | 1439.93 | | | NO | NO | | | Horizontal | 11.375 | IN | ID | 119 | IN | 0.283 | m3 | |
| | | 22140 | SCFM | | | 1420 | PSI | | | | | | | | | |
| 1723.689 | 250 | | | NO | NO | | | Vertical | | | | | | 0.207 | m3 | |
| | | 4068 | SCFM | | | 250 | PSI | | | | | | | | | |
| 1034.214 | 150 | | | NO | NO | | | Vertical | | | | | | 0.023 | m3 | |
| 1034.214 | 150 | | | NO | NO | | | Vertical | | | | | | 0.037 | m3 | |
| | | 17 | GPM | | | 25 | PSI | | | | | | | | | |
| 1034.21 | 150 | | | NO | NO | | | Vertical | | | | | | | | 30582 |
| | | 329 | SCFM | | | 150 | PSI | | | | | | | | | |
| | | | | NO | NO | | | Horizontal | | | | | | | | |
| | 1500 | 210 | GPH | | | | | | | | | | | | | |
| | 1500 | 210 | GPH | | | | | | | | | | | | | |
| | | | | | | | | | | | | | | | | |
| | | | | | | | | | | | | | | | | |



DEHYDRATOR BUILDING 12' X 34' X 10'




2-SINGLE DOORS




2-WINDOWS




We have all drawings etc.




Skidded and easily accessible for loading/transport




If you wish to view this item please contact Marlon @ 403.815.2016

" st_image="https://www.energyauctions.ca/files/docs/Liquidations/Liquidations-c5cdd3be-d1f9-45ad-9b89-0306be7251ed.jpeg" st_title="36" DEHY pkg" st_url= "https://www.energyauctions.ca/liquidations/dehy-pkg-3">